Allied Piping Inc. (API) believes that continuous improvement is fundamental to its success and expansion. Each employee of API is responsible for ensuring that the customer's expectations are met by adhering to the processes and procedures detailed within the Quality Management System.
Quality means working with customers to offer an option which helps them define their real requirements for the material and then meeting these requirements reliably and economically. It's more than just meeting the technical requirements of the material. Quality is a goal in personal relationships, accurate and efficient documentation, on-time performance, and effective follow-up.
Allied Piping Inc, Quality Management System is of the highest priority for the company and has the overall basic objective of winning, maintaining, and developing customer satisfaction.
To achieve this, the following principles are adhered to:
Involvement of all company personnel in the Quality process and their empowerment to take action on Quality issues.
Prevention of problems in the product or processes.
Evaluation of the results as per the objectives.
Corrective measures against any and all non-conformances.
Continual and preventive actions for improvement to the Quality Management System.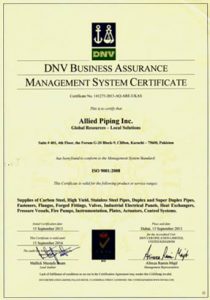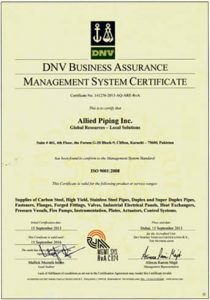 Our principles are having approvals
---